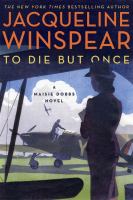 Book list
From Booklist, Copyright © American Library Association. Used with permission.

In the latest Maisie Dobbs mystery (the fourteenth in the series), a young man working on a secret government contract vanishes. Maisie, the English psychologist and private investigator, soon discovers that his death might have a connection to London's organized-crime world. Winspear has done a remarkable job with this series, which has now covered more than a decade (the first installment was set in the late 1920s; this one takes place in 1940); Maisie, a woman working in what was at the time considered almost exclusively a man's field, is a wonderful creation, representative of her era while being at the same time a thoroughly modern woman. The mystery in this book is cleverly designed, too, allowing the author to explore the environment in England in the early, quiet days of WWII the so-called phony war, before the Blitz and to explore England's 1940s-era criminal underground. A first-rate historical mystery.--Pitt, David Copyright 2018 Booklist
---
Publishers Weekly
(c) Copyright PWxyz, LLC. All rights reserved

The possible disappearance of a teenage boy drives bestseller Winspear's so-so novel set in 1940 Britain, her 14th featuring London investigator and psychologist Maisie Dobbs (after 2017's In This Grave Hour). Before the war, 15-year-old Joe Coombes worked as an apprentice for a painting and decorating company that the British government retained to paint RAF facilities with a new kind of fire-retardant. When Joe's family doesn't hear from him for several days, his father, publican Phil Coombes, asks Maisie to trace the boy. His son seemed different during their last visits, Phil tells her. Maisie soon learns that Joe took a fatal fall onto a railway track, but the reader already knows, via the prologue, that he was bludgeoned to death. The whodunit story line is often secondary to the larger historical picture-in particular, the British response to the retreat from Dunkirk and the threat of German invasion-and to developments in Maisie's private life. A gratuitous closing contrivance doesn't help. Still, Winspear fans will find much to like. Agent: Amy Rennert, Amy Rennert Agency. (Mar.) © Copyright PWxyz, LLC. All rights reserved.
---
Kirkus
Copyright © Kirkus Reviews, used with permission.

Britain teeters on the brink as World War II ramps up.In May 1940, Maisie Dobbsnurse, spy, psychologist, and enquiry agentis caught up in the strange death of a local lad. Maisie's life has been fraught with difficulty since the death of her husband in a plane crash and her subsequent miscarriage. She's compensated for her anguish by plenty of daring deeds, including working as a nurse in the Spanish Civil War and as a spy in Hitler's Germany. Just as she's seeking to adopt Anna (In This Grave Hour, 2017, etc.), a refugee child living in her home in Kent, Maisie's approached by local publican Phil Coombes, who's desperately worried about his son Joe. Although only 15, he's apprenticed to Yates and Sons, painters and decorators, and has been traveling the country applying a fire-retardant paint to air-base buildings. The paint has apparently given him massive headaches, and now he's vanished. Maisie, who still has enough gas coupons to run her car, agrees to try tracking him down while her assistant, Billy Beale, checks out Yates. When Joe is found dead on the railroad tracks, the police think he probably jumped, but Maisie is suspicious even before the coroner finds a strange lesion in his brain. In truth, there's something a bit off about the whole Coombes family. Their standard of living is a cut above what Maisie would expect their pub to provide. And when she discovers that Mrs. Coombes is the sister of a well-known and dangerous criminal, she becomes convinced that the government paint contract involves a nasty scam and uses all her contacts to search for the truth. Her life is made even more stressful when her godson and a friend steal off to Dunkirk to help rescue the desperate remnants of the British army trapped between the advancing Germans and the English Channel.In addition to providing a very good mystery, Winspear does a smashing job describing the bravery exhibited by everyday Britons as the fear of invasion becomes ever more real. Copyright Kirkus Reviews, used with permission.
---
Library Journal
(c) Copyright Library Journals LLC, a wholly owned subsidiary of Media Source, Inc. No redistribution permitted.

A somber mood sets the tone for the 14th Maisie Dobbs mystery (after In This Grave Hour) as World War II has begun. Local pub owner Phil Coombes wants Maisie to find his son Joe, who had been working as a painter for a military contractor. Coombes is concerned because Joe had complained of persistent headaches while working with fire-retardant paint. When Joe's body is discovered, Maisie must investigate whether it was a case of murder or just an accident. She finds more than she ever bargained for in the way of Coombes family secrets and military operations. Everyone has something to hide. Meanwhile, the drama of the British troops trapped at Dunkirk is made personal when Maisie's godson jumps on a yacht to help rescue the men. She is also balancing her own personal life with her investigative business as she explores the possibility of adopting Anna, her family's orphaned evacuee. Verdict Winspear has created another rich reading experience for Maisie's many fans, but this title could be seen as entry point for new fans as well. Highly recommended for readers who enjoy a thoughtful mystery. [See Prepub Alert, 9/11/17.]-Kristen Stewart, Pearland Lib., Brazoria Cty. Lib. Syst., TX © Copyright 2018. Library Journals LLC, a wholly owned subsidiary of Media Source, Inc. No redistribution permitted.