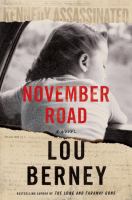 Publishers Weekly
(c) Copyright PWxyz, LLC. All rights reserved

Edgar-winner Berney (The Long and Faraway Gone) takes a familiar plot in unexpected directions in this moving novel. In 1963, Frank Guidry serves New Orleans mob boss Carlos Marcello as a fixer, assigned to take care of loose ends-permanently. In November of that year, Guidry is tasked with leaving a car in a Dallas parking lot near Dealey Plaza. After President Kennedy's assassination, Guidry realizes that, because he provided the getaway vehicle for the real killer, he's become a loose end, and he begins a desperate flight to evade execution. Eventually, he crosses paths with Charlotte Roy, an unhappy Oklahoma housewife, who has resolved to make a better life for herself and her two young daughters, away from her alcoholic husband, by starting afresh in California. While Berney creates nail-biting suspense by placing Marcello's top hit man on Guidry's trail, the book's power derives from Charlotte, who finds hidden strength as she confronts unexpected challenges. This is much more than just another conspiracy thriller. Author tour. Agent: Richard Parks, Richard Parks Agency. (Oct.) © Copyright PWxyz, LLC. All rights reserved.
---
Book list
From Booklist, Copyright © American Library Association. Used with permission.

*Starred Review* Library shelves are already bulging with novels about the JFK assassination in all its permutations. So what makes Berney's take so different and so unforgettable? For starters, it's not really about the assassination. There are no grassy knolls and no ballistic analyses. Yes, the assassination is the engine that starts the story, and, yes, those days in the wake of that history-changing moment set the book's tone, but what follows is essentially a road novel mixed with a romance and a noir chaser. Frank Guidry, a soldier in New Orleans mobster Carlos Marcello's family, happens to know something he shouldn't about what happened in Dallas something he would give anything not to know. But he does know it, and that means he's a loose end. Nothing to do but run, which Frank does, heading west and harboring the unlikely dream of reaching that chimerical frontier where Marcello's boys can't find him. On the road, he meets another would-be escapee, Charlotte Roy, running from an abusive husband and standing with her two young daughters beside their broken-down car. What great cover, Frank thinks, traveling with a woman, two kids, even a dog. So begins a road trip across midcentury Middle America in which a man, a woman, and two children all have their very different expectations about what awaits them upended completely. Berney bends his notes exquisitely, playing with the melody, building his marvelously rich characters while making us commit completely to the love story, even though we hear the melancholy refrain and see the noir cloud lurking in the sky. Pitch-perfect fiction. HIGH-DEMAND BACKSTORY: Breakout novel is an overused phrase, but it just may fit this much-buzzed-about jewel from a writer who easily reaches across the aisle separating thrillers and literary fiction.--Bill Ott Copyright 2018 Booklist
---
Kirkus
Copyright © Kirkus Reviews, used with permission.

As a shocked nation mourns the assassination of John F. Kennedy, two lost souls looking for a new chance at life find each other along the wide-open Western highways.In Berney's (The Long and Faraway Gone, 2015, etc.) latest, Frank Guidry's skills have made him an invaluable part of Carlos Marcello's illegal New Orleans empire, but they don't protect him when he becomes a loose end. On the run and struggling to stay one step ahead of a terrifyingly proficient hit man, Frank meets Charlotte Roy and her two daughters. Charlotte has made the impulsive decision to leave her alcoholic husband and her claustrophobic hometown and start a new life in California when she runs her car into a ditch. With a well-honed sense of self-preservation, Frank realizes that traveling as a man with a family would be the perfect cover, so he skillfully manipulates himself into the role of savior. As he and Charlotte begin to care for each other, Frank has to decide whether he can safely take her and the girls with him on his escape. Charlotte, for her part, is no delicate flower; she'll do whatever it takes to provide opportunities for her daughters to grow up as strong, independent women. Any novel that invokes the era following the death of JFK inevitably illustrates the moment our country's zeitgeist changed. The 1960s, of course, were rife with revolution and change, from music to relations between men and women to the start of the Vietnam War. Berney's gentle, descriptive writing brilliantly reflects these times of both disillusionment and hope. The men in the novel, including Frank and Barone, the hit man, also symbolize the Romantic notion of a time that has come to an end. As the title suggests, there is an autumnal, melancholic sense of loss at the heart of the novel, yet still, the loss is not destructive or debilitating. It is the kind of loss that gives way to a new world order.Perfectly captures these few weeks at the end of 1963all that was lost and all that lay tantalizingly and inevitably just beyond the horizon. Copyright Kirkus Reviews, used with permission.
---
Library Journal
(c) Copyright Library Journals LLC, a wholly owned subsidiary of Media Source, Inc. No redistribution permitted.

Frank Guidry is a fixer for the New Orleans mob in 1963, the kind of guy who greases palms and makes things happen. When the subject of his boss's fury, President Kennedy, is assassinated, Frank realizes he recently stashed a getaway car in Dallas as a favor. Everyone connected to him starts disappearing, so Frank decides to hit the road. He meets aspiring artist Charlotte Roy and her two daughters, who are headed to California. Charlotte is running from a broken marriage to an alcoholic and sees no future for herself or her children in small-town -Oklahoma. Using the family as cover on the road, Frank forms a connection and finds that protecting is more worthwhile than escaping. Wistful and complex, Berney's confident portrait of a roadside America traumatized by Kennedy's death gives the novel literary heft, while the ticking clock of the mob closing in on the family to settle accounts lends a genre bite. VERDICT Berney's follow-up to The Long and Faraway Gone explores relationships between two complicated and realized characters. With depth and genre crossover appeal, this literary crime thriller will please fans of Dennis Lehane or George -Pelecanos and also satisfy a wider audience. [See Prepub Alert, 4/23/18.]-Gregg Winsor, -Johnson Cty. Lib., Overland Park, KS © Copyright 2018. Library Journals LLC, a wholly owned subsidiary of Media Source, Inc. No redistribution permitted.