by Barbara Kingsolver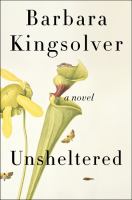 Publishers Weekly
(c) Copyright PWxyz, LLC. All rights reserved

Kingsolver's meticulously observed, elegantly structured novel unites social commentary with gripping storytelling. Its two intertwined narratives are set in Vineland, a real New Jersey town built as a utopian community in the 1860s. In the first storyline, set in the present, the magazine Willa Knox edited and the college at which her husband, Iano Tavoularis, taught both fold at the same time. They find themselves responsible for Iano's ailing father and their single son's new baby. They hope the house they have inherited in Vineland will help rebuild their finances, but-riddled with structural problems too costly to repair-it slowly collapses around them. Destitute after decades of striving and stunned by the racist presidential candidate upending America's ideals, the couple feels bewildered by the future facing them. Researching the home's past in the hopes of finding grant-worthy historical significance, Willa becomes fascinated by science teacher Thatcher Greenwood and his neighbor, naturalist Mary Treat, one of whom may have lived on the property in the 1870s. In the second story line, which alternates with Willa's, Thatcher's home is unsound and irreparable, too. His deepening bond with Mary inspires him, but his support for radical ideas like those of Mary's correspondent Charles Darwin infuriates Vineland's repressive leadership, threatening Thatcher's job and marriage. Kingsolver (Flight Behavior) artfully interweaves fictional and historical figures (notably the remarkable Mary Treat) and gives each narrative its own mood and voice without compromising their underlying unity. Containing both a rich story and a provocative depiction of times that shake the shelter of familiar beliefs, this novel shows Kingsolver at the top of her game. (Oct.) © Copyright PWxyz, LLC. All rights reserved.