by Zora Neale Hurston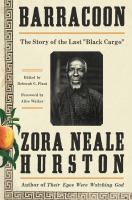 Library Journal
(c) Copyright Library Journals LLC, a wholly owned subsidiary of Media Source, Inc. No redistribution permitted.

Novelist Zora Neale Hurston drafted Barracoon in 1931, but the work has never been published until now. At once a work of anthropology, folklore, and reminiscence, the book relates the interviews Hurston conducted in 1927 with Cudjo Lewis (1840-1935), the last known survivor of the Atlantic slave trade. Much of Lewis's retelling focuses on growing up in a Yoruba village in West Africa, his capture by slavers and transport on the Middle -Passage in 1860, and life after emancipation in helping to build Africatown, a refuge former slaves established near Mobile, AL. Lewis describes his brutal enslavement and the racism that followed his emancipation. Hurston demonstrates interest, even shock, at what Lewis chooses to tell her. This is a rare account of the full experience of enslavement from capture to "freedom," and a revealing look at Hurston's maturing as a folklorist sensitive to dialect and interviewees' authority over their own stories. This first edition of Barracoon gains from author Deborah Plant's introduction, which places Hurston's work in historical and literary context and addresses her folkloristic approach to frame Lewis's interviews. VERDICT A brief book that tells a significant story; for fans of Hurston and African American and world history. [See Prepub Alert, 11/12/17.]-Randall M. Miller, St. Joseph's Univ., Philadelphia © Copyright 2018. Library Journals LLC, a wholly owned subsidiary of Media Source, Inc. No redistribution permitted.
---
Publishers Weekly
(c) Copyright PWxyz, LLC. All rights reserved

This previously unpublished manuscript from Hurston (1891-1960) is a remarkable account of the life of Kossola, also known as Cudjo Lewis, the last survivor of the last American slave ship. Before writing Their Eyes Were Watching God, Hurston was working as an anthropologist in 1927 when she traveled to Plateau, Ala., to interview 86-year-old Kossola. Returning to Plateau in 1931 for three months, Hurston documented Kossola's life story in this short manuscript, whose brevity disguises its richness and depth. Consisting primarily of transcriptions from their conversations, Kossola recalls his capture in Africa, the Middle Passage, his five and a half years as a slave, the Civil War, the struggles following Emancipation, and the terrors after Reconstruction (his son was killed by a deputy sheriff in 1902). Kossola was 19 years old when he was sold into slavery; thus, his accounts of folkways and traditions (e.g., the decapitated heads hanging from the belts of the Dahomian warriors who captured him) offer more graphic and personal immediacy than other surviving narratives of the slave trade, like those of Equiano or Gronniosaw, who were small children at the time of their capture. While Hurston acknowledges that her account "makes no attempt to be a scientific document, but on the whole is rather accurate," Kossola's story-in the vernacular of his own words-is an invaluable addition to American social, cultural, and political history. (May) © Copyright PWxyz, LLC. All rights reserved.