by Kate Atkinson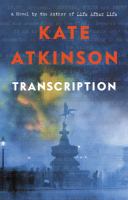 Publishers Weekly
(c) Copyright PWxyz, LLC. All rights reserved

Atkinson's suspenseful novel (following A God in Ruins) is enlivened by its heroine's witty, sardonic voice as she is transformed from an innocent, unsophisticated young woman into a spy for Britain's MI5 during WWII. Initially recruited to transcribe secretly recorded conversations between British fascist sympathizers who think they are conspiring with the Gestapo, Juliet Armstrong is one day given an infiltration assignment (and a gun), during which she discovers an important document-and just like that, she becomes an undercover agent. Her growing realization of the serious nature of what at first seems like an "espionage lark" is made more intriguing by her attraction to her enigmatic boss. Juliet finds herself running a safe house for a Russian defector until the war's end, after which she lives in an unspecified location abroad for decades. It's in the 1970s that agents return and insist that she get back in the game as a double agent, and she realizes there's no exit. If Atkinson initially challenges credibility because Juliet slides too quickly from being a naive 18-year-old into a clever escape artist and cool conspirator, her transition into idealistic patriot and then ultimately jaded pawn in the espionage world is altogether believable. The novel's central irony is that the desperation for victory in a noble cause later becomes tainted with ruthless political chicanery. The book ends on an uncertain note for Juliet, a poignant denouement for this transportive, wholly realized historical novel. (Sept.) © Copyright PWxyz, LLC. All rights reserved.
---
Library Journal
(c) Copyright Library Journals LLC, a wholly owned subsidiary of Media Source, Inc. No redistribution permitted.

Is it ever possible to transcend the choices of the past? In this superb new novel from Atkinson (A God in Ruins), it's 1940 when Juliet Armstrong is recruited into the British intelligence service, MI5. She supports an operation by transcribing recorded meetings between a British agent, posing as a member of the Gestapo, and British Nazi sympathizers. At 19 and somewhat naïve but with considerable wit and intelligence, she is soon entangled in espionage, undertaking an active role in the operation and bringing several traitors to justice. When the war ends, Juliet leaves MI5 for the BBC, first in Manchester, and then in London, where she produces programs for the emerging schools educational service in 1950. As Juliet's life tantalizingly unfolds, it becomes apparent that she has made some very provocative choices during the war, and that absolutely nothing is as it seems. VERDICT With a fascinating cast of characters, careful plotting, and lyrical language in turns comical and tragic, Atkinson's complex story carefully unveils the outer demands and inner conflicts that war inflicts on people. A delight for fans of A.S. Byatt and Ian McEwan. [See Prepub Alert, 3/12/18.]-Penelope J.M. Klein, Fayetteville, NY © Copyright 2018. Library Journals LLC, a wholly owned subsidiary of Media Source, Inc. No redistribution permitted.
---
Book list
From Booklist, Copyright © American Library Association. Used with permission.

*Starred Review* As in her sublime Life after Life (2013), Atkinson again jumps between different periods in the mid-twentieth century to tell the story of a singular Englishwoman trapped in the vice of history. In 1940, during the phony war, 18-year-old Juliet Armstrong is a well-read, if somewhat naive, young woman, more concerned with the introduction of meat rationing than with the coming of the real war, the one where you might be killed. Even her work, transcribing conversations between an MI5 agent and various fifth columnists, seems oddly unthreatening, given the dim-witted ordinariness of these comically British would-be traitors, obsessed with their numerous biscuit breaks. But then, suddenly, it doesn't seem ordinary anymore. What happens in 1940 to change Juliet's view of the world is revealed gradually, as Atkinson jumps from wartime London to 1950 and Juliet's postwar life as a radio producer for the BBC. Often, when writers attempt to tell two related but different stories, the reader picks a favorite and loses interest in the other. That's never the case here. Atkinson is a masterful narrative strategist, linking her two stories by the appearance in Juliet's postwar world of figures from her MI5 days and the suggestion that she is now at risk for what happened then. This is a novel full of surprises Juliet is far more complex than she seems at first but also one full of indelible characters, both at MI5 and the BBC, as Atkinson never fails to take us beyond an individual's circumstances to the achingly human, often-contradictory impulses within. And, as all of Atkinson's readers know, she is an exquisite writer of prose, using language with startling precision whether she is plumbing an inner life, describing events of appalling violence, or displaying her characters' wonderfully acerbic wit. Evoking such different but equally memorable works as Graham Greene's The Human Factor (1978) and Margaret Drabble's The Middle Ground (1980), this is a wonderful novel about making choices, failing to make them, and living, with some degree of grace, the lives our choices determine for us.--Ott, Bill Copyright 2018 Booklist