by James Patterson and Mike Lupica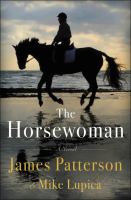 Library Journal
(c) Copyright Library Journals LLC, a wholly owned subsidiary of Media Source, Inc. No redistribution permitted.

In the No. 1 New York Times best-selling Chamberlain's The Last House on the Street, Kayla Carter is mourning the husband who died building their dream house in a North Carolina community as warnings from not one but two older women not to move into the house eventually lead to a story of prejudice and violence that rocked the community a half-century earlier (150,000-copy first printing). A librarian like her creator, debut novelist Jurczyk, Liesl Weiss is shocked to discover that a valuable manuscript has gone missing from The Department of Rare Books and Special Collections but is told not to raise a ruckus—but she starts investigating when a colleague goes missing as well. Getting readied for television by the BBC, May's debut novel, Wahala ("trouble"), features three British Nigerian women whose close friendship is blown to bits when a glamorous and ultimately venomous outsider insinuates herself into the group. In No. 1 New York Times best-selling Mitchard's The Good Son, Thea Demetriou must find a way to support her son emotionally when he returns home from prison after having committed a heinous crime. Patterson and Lupica join forces with The Horsewoman, the story of a mother and daughter who are both champion riders—and are up against each other in competitons leading to the Paris Olympics. In Shalvis's series starter, The Family You Make, Jane is dangerously stranded on a ski lift with Levi Cutler, who impulsively tells his parents by cellphone that she is his girlfriend—a charade she agrees to keep up when she finds herself falling for him and his warm, embracing family. Sorell follows up her well-rendered small-press debut, Mothers and Other Strangers, with Three Wise Women: an officious advice columnist and her two troubled adult daughters. In Steel's latest, a young woman who survived a neglectful childhood by hunkering down can remain Invisible no longer when her dream of becoming a film director unexpectedly puts her in front of the camera. Revisiting Perdita Street, the setting of Wiggs's beloved The Lost and Found Bookstore, Sugar and Salt makes love bloom between San Francisco baker Jerome "Sugar" Barnes and barbecue master Molly Salton, trying to forget an unhappy past in Texas.