by Clive Cussler and Boyd Morrison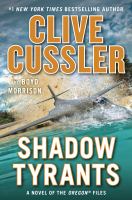 Publishers Weekly
(c) Copyright PWxyz, LLC. All rights reserved

Bestseller Cussler's solid if overly familiar 13th Oregon novel (after 2017's Typhoon Fury, also with Morrison) pits Juan Cabrillo, chairman of the Corporation, a private organization that undertakes difficult missions for the CIA, against a secret cabal, the Nine Unknown, whose members possess ancient knowledge of physical and social sciences that could be used to conquer the world. Eight of the nine have decided to implement a plan called Colossus to "save the world from lesser minds and make them de facto rulers of every nation on Earth." The group's lone dissenter, Romir Mallik, believes that Colossus-essentially an advanced artificial intelligence computer-will bring about the end of humanity, and attempts to destroy Colossus with a network of killer satellites. It's up to Cabrillo and the men and women of the Oregon, a state of the art super ship disguised as a derelict rust-bucket, to stop the villains and save the world. There's plenty of action, but the stale scenario and stock characters add up to a seen-it-before experience. Agent: Peter Lampack, Peter Lampack Agency. (Sept.) © Copyright PWxyz, LLC. All rights reserved.