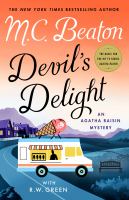 Publishers Weekly
(c) Copyright PWxyz, LLC. All rights reserved

The rambling 33rd outing for private detective Agatha Raisin (after 2021's Down the Hatch), Green's second collaboration with Beaton (1936–2019), finds Agatha and Toni Gilmour, her colleague at Raisin Investigations, driving through their beloved Cotswolds on their way to a policeman friend's wedding. Then they spot a naked young man, Edward Carstairs, running down the middle of the road, and they soon learn that Edward, a member of a nudist club, has just found a dead body in the woods. Agatha and Toni follow him to the spot, but the body has vanished. Agatha decides to get to the bottom of things. To that end, Toni, who's smitten with Edward, suggests that she go undercover—so to speak—at the Mircester Naturist Society. In addition, the pair look into a potential drug ring at a girls' boarding school and a spot of pilfering from a brewery. Agatha at times comes across as a sad figure, not her usual confident, funny, strong-willed self, and the thin mystery plots offer little suspense. This one's for established fans, who may appreciate catching up with the current status of Agatha's ever-expanding team of once, current, and possibly future beaus. Agent: Barbara Lowenstein, Lowenstein Assoc. (Dec.)
---
Kirkus
Copyright © Kirkus Reviews, used with permission.

Agatha Raisin continues to handle some murders—and some men—more easily than others. Agatha and her detective-agency employee Toni Gilmour are on their way to a wedding when they're flagged down by a naked young man who claims to have found a dead body in the woods. Thus begins one of Agatha's oddest cases, which will involve her removing her clothes for the Mircester Naturist Society and trying out several new amatory partners while pondering her past relationships. Agatha is attracted to all she can see of Jasper Crane, chairman of the Naturist Society, but since the dead body has vanished by the time she and Toni arrive in the clearing where it had been earlier, they press on to the wedding of DS Bill Wong and DC Alice Peters after trading insults with DCI Wilkes. There, Agatha meets Inspector John Glass, another desirable prospect. In addition to delving into the murder on her own time, Agatha is hired to discreetly investigate drug sales at a boarding school for girls. She's just visited Sir Charles Fraith, another of her on-and-off lovers, to learn more about the Naturist Society, which was founded by his grandfather, when the missing body turns up in a lake. It becomes clear that Agatha's investigation has hit a nerve when her house is trashed and she's almost burned alive. Furious, she digs even deeper and discovers a connection between the society, the drugs, and ice cream that will reveal all. The convoluted mystery plays second fiddle to the heroine's even more convoluted love life. Copyright © Kirkus Reviews, used with permission.
---
Library Journal
(c) Copyright Library Journals LLC, a wholly owned subsidiary of Media Source, Inc. No redistribution permitted.

Lord Bertram Deeley drops dead on a cruise he's organized to his luxurious Luxor home, and guest Lady Emily (an Alexander stalwart) has a horde of suspects—and a link to a millennia-old crime—as she uncovers the Secrets of the Nile (40,000-copy first printing). Delightfully fowl-mouthed best seller Andrews sends readers Dashing Through the Snowbirds as Meg Langslow hosts a group of Canadians forced by a nasty boss to work far from home over Christmas, then investigates when the boss is murdered (40,000-copy first printing). Green takes the reins from the late, formidable Beaton in Devil's Delight, with Agatha Raisin and colleague Toni encountering a young man who claims hysterically that he has stumbled upon a dead body near the Mircester Naturist Club, though no body can be found (75,000-copy first printing). In Haines's Bones of Holly, effervescent private eye Sarah Booth Delaney and colleague Tinkie head to Bay St. Louis, MS, to judge the annual library tree-decorating contest with two rivalrous authors, one of whom soon disappears (40,000-copy first printing). In the New York Times best-selling McKinlay's The Plot and the Pendulum, library director Lindsey Norris unearths a skeleton at the Dorchester family estate, where she is cataloging a huge bequest to the library. In Rosenfelt's latest, Santa's Little Yelpers—a litter of puppies at lawyer Andy Carpenter's dog-rescuing Tara Foundation—are being fostered by volunteer Scott Tillman, formerly imprisoned, who's discovered evidence that would exonerate him of the crime he insists he didn't commit (50,000-copy first printing). From Pinckley Prize-winning Rendon, an enrolled member of the White Earth Nation, Sinister Graves brings back young Ojibwe woman Cash Blackbear, who helps her sheriff guardian investigate when the body of an unidentified Indigenous woman is swept into town by ferocious floodwaters.