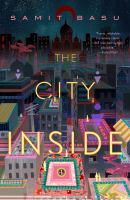 Library Journal
(c) Copyright Library Journals LLC, a wholly owned subsidiary of Media Source, Inc. No redistribution permitted.

In a near-future Delhi, reclusive video-gamer Rudra accepts a job from Joey, who supervises the multimedia multi-reality livestreams of a booming South Asian online celebrity who happens to be a former lover. Soon, Rudra and Joey find themselves swamped by ugly surveillance capitalism, branching conspiracies, and a shadowy world where nothing is as it seems. From leading Indian author Basu; with a 75,000-copy first printing.
---
Library Journal
(c) Copyright Library Journals LLC, a wholly owned subsidiary of Media Source, Inc. No redistribution permitted.

There's a chilling effect to Basu's (The Simoqin Prophecies) new near-future sf epic, set in a social media-glutted world where surveillance is everywhere. In the near-future city of Delhi, Joey is a Reality Controller. It's her job to create a safe, sanitized version of the social media star she showcases, while the government uses censorship to spoon-feed news, opinions, and entertainment to numb a populace that can't keep up with the constant re-writing of history and alternate political realities. The "surveillance capitalism" of the State is designed to keep the wealthy in power while convincing the people being exploited that everything is fine. When Joey learns that the exploitation is even more heinous and literal than she imagined, she has to decide whether to resist. She is caught between protecting herself and her loved ones and exposing a rot that everyone is programmed to ignore. VERDICT Readers will empathize with Joey's dilemma and get caught up in the minutiae of her life. The novel's theme, that the truth does not and cannot set anyone free, is as disturbing as it is thought-provoking.—Marlene Harris
---
Book list
From Booklist, Copyright © American Library Association. Used with permission.

Joey is among the top in her field of Reality Controllers managing and producing her Flowstars. She works in near-future Delhi just after the Years Not to Be Discussed. The Pandemic and world events have broken India into ill-defined factions run by shadowy oligarchs that she navigates with the help of apps and smarttatts. All is going fine when she runs into Rudra, the prodigal son returning for his powerful father's funeral. His older brother wants him in the family business, which may involve human trafficking for body parts. He is resisting and Joey, not sensing the dangers, tries to help. The reader's immersion into their world is truly felt in the conflicts that follow in trying to find a way to be true to oneself when, as one character sums it all up, "What is the point of this tech if it can't tell us the truth?" Unlike a lot of cyberpunk novels, which seem to contain a fair amount of physical violence, Basu explores spiritual violence in this first American publication of his 2020 novel, Chosen Spirits.
---
Publishers Weekly
(c) Copyright PWxyz, LLC. All rights reserved

Basu (Resistance) delivers a lukewarm sci-fi tale that feels just as stuck as its main character, Joey, the best Reality Controller in a near-future Delhi. Joey works so hard managing and producing her Flowstars—a roster of virtual reality celebrities that includes her ex-boyfriend turned influencer, Indi—that her own life takes a backseat to curating their content and she relies on a "lifestyle management" app to keep herself functioning. When she offers a job to the elusive Rudra, a wealthy recluse who's returned to Delhi following his father's death, what should ease her burden only adds to Joey's trouble as loyalties shift between her coworkers, corporate greed grows, and Joey and Rudra stumble on a government conspiracy. Now Joey must finally wrest back control of her life and use her resources to influence change. Basu creates a cramped-feeling world, and though the insightful plot thoroughly probes the political and social consequences of life increasingly lived within virtual reality, Joey's lack of ambition or agency throws a wet blanket on any tension and causes the pace to lag. The result is a smart but slogging tale that never quite gets moving. (June)