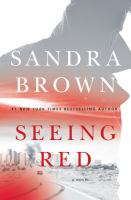 Kirkus
Copyright © Kirkus Reviews, used with permission.

Brown (Mean Streak, 2014, etc.) ticks off the boxes that elevate her books to the bestseller lists in this sexy romantic thriller set in Texas.Rock-jawed hero with a dark past: check. Strong-willed, beautiful woman who resists his charms: check. A Whitman's Sampler of bad guys: check. And finally, a convoluted and not always plausible plot: check. In this latest outing, readers meet TV journalist Kerra Bailey, whose family was torn apart years ago by a hotel bombing that killed 197 people in Dallas. Just in time for the 25th anniversary, Kerra scores an interview with the notoriously private Maj. Trapper, who saved her life, among others, when he emerged from the blast to lead the survivors out of danger. There's an iconic, prizewinning photo of the major carrying a little girl from the wreckage, but the child has never been identifieduntil now, when Kerra goes public with the information that it was her. Just after they finish filming the interview in his home, the major is shot, and an injured Kerra escapes in the confusion. The major's son, disgraced Bureau of Alcohol, Tobacco, Firearms and Explosives agent John Trappera name M*A*S*H fans will appreciatesteps in, igniting a chain of events that leads to murder, intrigue, betrayal, and a series of dark revelations. As with most of Brown's heroes and heroines, there's palpable sexual tension between Trapper, whose taut rear occupies ample literary real estate, and Kerra, who when dealing with Trapper feels "like he'd lightly scratched her just below her bellybutton" when he's not making her "pleasure points throb." The complex plot plays out in a round of reveals that don't always make a lot of sense, but that's not why Brown's fans read her books. They check in for the witty, pitch-perfect dialogue and fluid writing. A master of her genre, Brown knows how to please her most ardent readers but relies too often on the same basic formula from novel to novel. As the plot grows more complicated, it also sheds believability, leaving sex and witty banter to carry the day. Copyright Kirkus Reviews, used with permission.
---
Publishers Weekly
(c) Copyright PWxyz, LLC. All rights reserved

Combustible relations between a strong man with seemingly serious flaws and a beautiful, smart woman with unexpected strengths elevate this novel of romantic suspense from bestseller Brown (Sting). TV journalist Kerra Bailey wants to interview Maj. Franklin Trapper, who became a hero when he led survivors to safety during the unsolved 1992 Pegasus Hotel bombing in Dallas, which killed 197 people, and who has since dropped out of public view. Kerra hopes to get the major's estranged son, John, a former ATF agent, to help arrange a meeting, but he's rude and uncooperative. She eventually succeeds in setting up an interview at the major's home, but shortly beforehand, Franklin is fatally shot and Kerra barely manages to escape the two killers. While Sheriff Glenn Addison and the Texas Rangers search for clues, Kerra and John alternate between attraction and distrust as they desperately try to discover the who and the why behind the shooting. Competent plotting, sizzling romance, and some nifty surprises should satisfy Brown's eager fans. Agent: Maria Carvainis, Maria Carvainis Agency. (Aug.) © Copyright PWxyz, LLC. All rights reserved.