by Lynn Vincent and Sara Vladic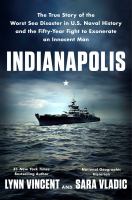 Publishers Weekly
(c) Copyright PWxyz, LLC. All rights reserved

Bestselling author and Navy veteran Vincent (Same Kind of Different as Me) and filmmaker and Indianapolis expert Vladic collaborate on a work that is simultaneously a gripping narrative, a convincing analysis, and a pitiless exposure of institutional mendacity. In 1945 the Indianapolis, alone, was torpedoed by one of the few Japanese submarines still operational and sank. Almost 900 men survived, but the ship had slipped off the Navy's tracking system, and it took four days before they were spotted, too late for more than 600 men who died from thirst and exposure or were eaten by sharks. Vincent and Vladic juxtapose the crew's harrowing ordeal with the Navy's desperate efforts to discover what had gone wrong and cover it up. The designated culprit was the ship's captain: court-martialed on skimpy evidence, found guilty of endangering the vessel, and eventually driven to suicide. A subsequent investigation led to his exoneration, but the systemic oversights and misjudgments that enabled this tragedy remained obscure until this investigation, which drew upon new sources clarifying how the file was amended. This exposť will be valuable for scholars and general readers alike. Agent: Rick Christian, Alive Communications. (July) © Copyright PWxyz, LLC. All rights reserved.
---
Library Journal
(c) Copyright Library Journals LLC, a wholly owned subsidiary of Media Source, Inc. No redistribution permitted.

Four days after delivering the world's first atomic bomb to the U.S. flight crew in the Pacific, the USS Indianapolis was sunk by Japanese torpedoes, with a loss of all but 317 of the 1,196 men on board. US Navy veteran Vincent, a No. 1 New York Times best-selling author, and documentary filmmaker Vladic, who's made an award-winning film on the tragedy, investigate what happened and how the decades-long struggle to vindicate the captain unfolded.