by Michael Pollan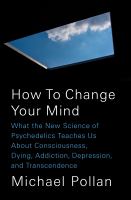 Library Journal
(c) Copyright Library Journals LLC, a wholly owned subsidiary of Media Source, Inc. No redistribution permitted.

Journalist and author Pollan (Univ. of California Berkeley Graduate Sch. of Journalism; The Omnivore's Dilemma) dives into the history, science, and mystery of psychedelics: the infamous category of "mind -manifesting" substances at once fairly and unfairly associated with 1960s counterculture. Today psychedelics are experiencing a renaissance in scientific research and culture, which shows promising signs of both unraveling past stereotypes and developing new approaches to the brain, consciousness, and treatments for mental illness. To illustrate this shift, Pollan presents a variety of perspectives, including his own "travelog" of forays with LSD and more. The result is a mixture of captivating journalism and unfortunately slightly awkward storytelling; the latter a consequence of the author's occasional discomfort with his own relationship to the topic. This book can set one a little off-kilter but is true to its ultimate goal: to get readers to open their minds and consider what psychedelics might yet teach us about ourselves and what we don't know. VERDICT A work of participatory journalism that shines new light on psychedelics and the people who study them. Recommended for fans of Pollan, science journalism, and studies of the mind.-Robin Chin Roemer, Univ. of Washington Lib., Seattle © Copyright 2018. Library Journals LLC, a wholly owned subsidiary of Media Source, Inc. No redistribution permitted.
---
Book list
From Booklist, Copyright © American Library Association. Used with permission.

*Starred Review* Pollan (Cooked, 2013) has long enlightened and entertained readers with his superbly inquisitive and influential books about food. He now investigates a very different sort of comestible, psychedelics (from the Greek: mind manifesting), and what they reveal about consciousness and the brain. Cued to the quiet renaissance underway in psychedelic therapy including microdosing, the subject of Ayelet Waldman's A Really Good Day (2017) to treat addiction and depression and tohelp patients cope with terminal illness, Pollan set out to understand the neurological effects of key psychoactive chemicals. Zealous mycologist Paul Stamets shares his deep knowledge of psilocybin fungi, held sacred for centuries in Mexico and Central America. Revealing how much more there is to the story of LSD than the infamous counterculture experimentation of Timothy Leary, Pollan recounts how the molecule was synthesized in 1938 in a Swiss pharmaceutical company lab by Albert Hofmann, catalyzing two decades of research, including the successful treatment of alcoholism, and inspiring crew-cut-sporting, revolver-toting Al Hubbard, aka Captain Trips, a bootlegger, gunrunner, government agent, and millionaire, to introduce nearly 6,000 people to LSD between 1951 and 1966. Then there's the impact LSD had on Silicon Valley.Never having tripped in his youth, and increasingly aware that our habits of mind harden as we age, Pollan decides to undergo some psychedelic therapy of his own, finding underground guides to oversee his experiences. Drawing on both spirituality and science, he shares the mysterious details of his inner journeys, and explains the neurological impact of psychoactive drugs and how they change lives. Pollan's complexly elucidating and enthralling inquiry combines fascinating and significant history with daring and resonant reportage and memoir, and looks forward to a new open-mindedness toward psychedelics and the benefits of diverse forms of consciousness.--Seaman, Donna Copyright 2018 Booklist
---
Publishers Weekly
(c) Copyright PWxyz, LLC. All rights reserved

Food writer Pollan (Cooked) shifts his focus to other uses of plants in this brilliant history of psychedelics across cultures and generations, the neuroscience of its effects, the revival of research on its potential to heal mental illness-and his own mind-changing trips. For an entire generation, psychedelics were synonymous with Harvard professor-turned-hippie Timothy Leary and his siren call to "turn on, tune in, drop out." But, Pollan argues, that freewheeling attitude quickly turned into a "full-on moral panic about LSD" that "doomed the first wave of [psychedelic] research." By the 1990s, the body of knowledge about the successful use of LSD to treat alcoholics in the '50s and '60s was buried, and medical interest only revived in 2010 with studies on treating cancer anxiety with psilocybin. Pollan writes movingly of one man whose "psychedelic journey had shifted his perspective from a narrow lens trained on the prospect of dying to a renewed focus on how best to live the time left to him." Today, renewed interest has sent scientists racing ahead with trials of psychedelics to treat addiction and depression, and curious seekers like Pollan into experiments with these substances. This nuanced and sophisticated exploration, which asks big questions about meaning-making and spiritual experience, is thought-provoking and eminently readable. Agent: Amanda Urban, ICM. (May) © Copyright PWxyz, LLC. All rights reserved.