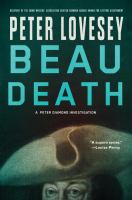 Publishers Weekly
(c) Copyright PWxyz, LLC. All rights reserved

Det. Supt. Peter Diamond has a very cold case to crack in Edgar-finalist Lovesey's fine 17th novel featuring the Bath police detective (after 2016's Another One Goes Tonight). The demolition of a condemned house reveals a gruesome find in the attic: a male skeleton, dressed in 18th-century clothes and seated in a chair. Despite the age of the remains, Diamond's officious boss, Asst. Chief Constable Georgina Dallymore, insists that he devote his team's resources to investigating the circumstances of the man's death. The corpse's garb suggests that it might belong to Beau Nash, a legendary local rake, who became known as the King of Bath after a suspicious death in a duel elevated him to the position of master of ceremonies for the city's Vegas-like entertainment and gaming. The prospect of identifying the cause of Nash's death almost three centuries earlier is daunting, and the stakes rise when the autopsy shows that the dead man was fatally stabbed. The plot is one of Lovesey's cleverest, and the book is full of his trademark wry humor. Agent: Jane Gelfman, Gelfman Schneider. (Dec.) © Copyright PWxyz, LLC. All rights reserved.
---
Book list
From Booklist, Copyright © American Library Association. Used with permission.

Here's another of Lovesey's classy entertainments featuring the put-upon, slyly funny, and usually dead-on right Peter Diamond, detective superintendent of the Bath police. This time Diamond shares the spotlight with a chap who's been dead for 300 years, eighteenth-century slick Richard Beau Nash. It was Nash's talent for promotion that turned Bath into a world-class city, though it earned him a pauper's grave. Or maybe not. A headache ball flattening a building has exposed a skeleton wearing Nash-style clothes and bearing marks that point to murder. Diamond dreams of having some fun with conventional Nash scholarship, but a fresh murder claims him, and he must investigate the killing of a modern-day promoter. In hilarious scenes, which have become Lovesey trademarks, the cops traipse about, straining their patience while they interview witnesses who misunderstand the questions or would rather talk about themselves, until Diamond's eye for detail catches the tiny incongruity that brings the solution. There's plenty of suspense here action, too all told in Lovesey's effortlessly elegant manner.--Crinklaw, Don Copyright 2017 Booklist
---
Library Journal
(c) Copyright Library Journals LLC, a wholly owned subsidiary of Media Source, Inc. No redistribution permitted.

A demolished English townhouse reveals a skeleton dressed in 18th-century period clothing; could the body be that of that famous dandy and Bath master of ceremonies Beau Nash? In their 17th outing (after Another One Goes Tonight), Chief Inspector Diamond and his unit dig deep into Bath history to resolve the intriguing case. Also on Diamond's plate is the death of an addict who had staged a fireworks extravaganza honoring Jane -Austen and Nash. Diamond is aided-and annoyed-by friend and lover Paloma Kean, ACC Georgina Dallymore, and his stalwart team members. The Bath setting is almost a character in its own right. The wry humor (including scenes of the potbellied Diamond in 18th-century attire attending a social event related to Beau Nash) adds charm to the story line. VERDICT One of the best entries in a long-running series, this exceptional police procedural is packed with imperfect and engaging characters, sophisticated plotting, and abundantly detailed historical tidbits. A surefire recommendation for fans of Christopher Fowler's "Bryant and May" series, which is quirkier but has many of the same appeal factors, and J.M. -Gregson's crime novels.-ACT © Copyright 2017. Library Journals LLC, a wholly owned subsidiary of Media Source, Inc. No redistribution permitted.