by Carl Bernstein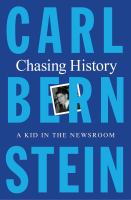 Kirkus
Copyright © Kirkus Reviews, used with permission.

Journalist Bernstein casts a sometimes appreciative, sometimes condemnatory eye on covering the Washington, D.C., of old, from Jim Crow to Camelot. Best known as Bob Woodward's partner in cracking the Watergate conspiracy, Bernstein grew up with ink in his blood. Even as a child he was obsessed with newspapers—and it was a golden age for newspaper readers, with nearly every city in the country hosting at least two rival publications. Until the early 1980s, Washington had two dailies: the Washington Post and the Evening Star. As a high schooler, Bernstein bluffed his way into a copyboy position at the latter: "What the copyboys did…was anything the reporters or editors asked. They pretty much made it possible for the whole place to function." His winning trait? Not any writing ability but a phenomenal typing speed, learned in a class that got him out of shop class. The whole of Washington became Bernstein's beat, guided by skilled editors who sent him on assignments such as covering the parade at John F. Kennedy's inauguration with the warning, "Be there at six a.m. Schaden will be the rewrite man. Don't try to write—just tell him what you saw." The author's reminiscences of old-school journalism—with its chaotic newsrooms, hot type, and guarded friendships among sources and writers—will please newspaper buffs, those who read the memoirs of H.L Mencken and Joseph Mitchell. Of wider interest is Bernstein's depiction of Washington in a time of desegregation and racial turmoil, when city officials drained public pools "rather than allow Black families to swim in them." Of being raised in D.C., the author writes, "I thought sometimes, [it] was akin to living in a small town that also happened to be the capital of the United States. Washingtonians had a kind of double vision of these people—as ordinary neighbors, but also as historic figures." Bernstein is now one such figure, and his book bears that weight. An appealingly nostalgic view of a political past unriven by political tribalism, chronicled by a reporter with an eye on history. Copyright © Kirkus Reviews, used with permission.
---
Book list
From Booklist, Copyright © American Library Association. Used with permission.

Readers of All the President's Men and The Final Days learned about Bernstein's most consequential days as a journalist. And Nora Ephron wrote about his failings as a husband in Heartburn. In this memoir of his earliest days working for the Washington Star, a different Bernstein emerges: the scrappy kid in love with newspapers, who saw his path and followed it with determination and aplomb. Bernstein was a high-schooler when he started at the paper, working his way up from copy boy to reporter. Here, he chronicles a long-gone time when the presses clanged, Runyonesque characters abounded, and a teenager could rub shoulders with top-notch journalists like Mary McGrory and David Broder. This is also a multifaceted portrait of greater DC, Bernstein's home town. Bernstein is something of a Zelig here, turning up in a reportorial role at multiple historic events: the March on Washington, President Kennedy's funeral, even a Beatles sighting. He also looks closely at what he saw around him: the hostility to civil rights, political patronage, and the white male privilege of the newsroom (only a few women got a shot; there was one Black male reporter). Bernstein catches history in this thoroughly absorbing read.
---
Library Journal
(c) Copyright Library Journals LLC, a wholly owned subsidiary of Media Source, Inc. No redistribution permitted.

Famous for breaking the Watergate story with Bob Woodward, Bernstein backtracks to his early-1960s experiences as a teenage reporter at the Washington Star in Chasing History. Structured around Gwendolyn Brooks's "We Real Cool," Punch Me Up to the Gods recounts award-winning poet/screenwriter Broom's upbringing in Ohio as a Black boy crushing on other boys, falling into wild sex and drug use, and finally finding his way. Laden with Academy Award, BAFTA, Golden Globe, SAG, and Grammy honors, Foxx pivots here to talk about raising two very different daughters in Act Like You Got Some Sense (400,000-copy first printing; originally scheduled for October 2020). In The Windsor Diaries, published posthumously, Howard records staying with her grandfather at Cumberland Lodge in Windsor Great Park during World War II and befriending princesses Elizabeth and Margaret. Emmy Award winner Leslie Jordan, a viral sensation, pulls out the Southern charm to tell funny stories about life and celebrity in How Y'all Doing? (100,000-copy first printing). Having started the YouTube channel Dad, How Do I? to hand out the fatherly advice and how-to tips he wishes his dad had been around to give him, Kenney here reiterates that advice while surveying his childhood and how the channel went viral (75,000-copy first printing). In Sparring with Smokin' Joe, Lewis, director of journalism at York College, CUNY, recalls the months he spent in 1981 in the gym and on the road with boxing great Joe Frazier. Brat Packer McCarthy relates a life that encompasses acting, directing, and working as an award-winning editor-at-large at National Geographic Traveler. In Sunshine Girl, Margulies shows how she created order amid the chaos of a difficult childhood to become an Emmy, Golden Globe, and Screen Actors Guild Award-winning actress. In Sinatra and Me, Oppedisano, a longtime confidant and key member of the singer's management team, reflects on Sinatra's life, loves, and commitment to his craft (100,000-copy first printing). Finally, in The Wreckage of My Presence, actress/podcaster Wilson offers funny but heartfelt essays ranging from the joys of eating in bed to her obsessive need to be liked (100,000-copy first printing)
---
Publishers Weekly
(c) Copyright PWxyz, LLC. All rights reserved

Pulitzer Prize winner Bernstein (All the President's Men) looks back at his early days as a reporter, before his Watergate reporting made him a household name, in this entertaining memoir. With wry humor, he describes his apprenticeship "in the newspaper trade from ages sixteen to twenty-one." Though his poor grades and record as a juvenile delinquent made it seem that "the odds were against my ever amounting to much," Bernstein recounts how in 1960, with the help of his father, he got an interview at the now defunct Washington Star. Thanks to his persistence and charisma, Bernstein secured a job there as a copyboy and moved rapidly up the ranks. He amusingly recounts going from covering local stories to reporting on major political events—such as the fledgling Kennedy administration—all while juggling the mundanities of high school: "Now that I had covered the inauguration of the president of the United States," he recalls, "Mr. Adelman's chemistry class interested me even less." Just as enthralling are his quaint recollections of growing up in D.C., at a time when being raised there felt "akin to living in a small town that also happened to be the capital of the United States." Admirers of this remarkable journalist will find much to love in this charming account. (Jan.)