by Mary Pipher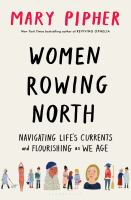 Library Journal
(c) Copyright Library Journals LLC, a wholly owned subsidiary of Media Source, Inc. No redistribution permitted.

Pipher entered the national psychological/literary stage with 1994's Reviving Ophelia: Saving the Selves of Adolescent Girls, which addressed how teen girls, deluged with images of beauty and sexuality and societal demands, fall into depression, eating disorders, and low self-esteem. Now, after several other books, the renowned psychologist turns to the subject of older women to help navigate the muddy and turbulent waters of aging. Her message is uplifting and calming: now is the time of authenticity, gratitude, and adapting-to anything. Pipher's skill of listening to clients and parsing meaning is evident in this volume filled with stories of women in the throes of change. She advises altering ways of thinking and behaving as we age, as we are no longer just older versions of our younger selves. But hers is not a one-solution-fits-all, as she urges readers to make a difference and take it easy, to know boundaries and offer wisdom, to understand what to accept and what demands our flexibility. VERDICT Pipher's tribute to older women everywhere-those skilled, knowledgable, and very wise-is simple: get involved, sit back, enjoy your life, be grateful, cherish every day. You've earned your happiness. [See "Editors' Fall Picks," LJ 8/18.]-Linda Beck, Indian Valley P.L., Telford, PA © Copyright 2018. Library Journals LLC, a wholly owned subsidiary of Media Source, Inc. No redistribution permitted.
---
Publishers Weekly
(c) Copyright PWxyz, LLC. All rights reserved

Pipher (The Green Boat), best known for challenging the cultural perspective on teenage girls in 1994's bestselling Reviving Ophelia, brings her professional skill as a cultural anthropologist and her personal experience as a woman transitioning from middle age to old age to a work chock-full of wisdom and consoling messages. Attentive to varying experiences of class, race, gender, health, and marital status, even as she considers the deep "challenges of aging, including ageism and lookism, caregiving, loss, and loneliness," Pipher offers practical, specific advice. This includes walking readers through "deep breathing and centering exercises," grandparenting "intentionally," and dealing with end-of-life care. She pays particular attention to the importance of finding community, warning against the trap of becoming isolated, and rattling off a multitude of suggestions-readers could join a book group, "learn to kayak" (per the title), or "volunteer to teach English to refugees." While a must-read for its target audience of women moving into old age, Pipher's engaging book is an ought-to-read for their daughters and sons as well, as it sets forth the universal message that "happiness is a choice and a set of skills." Agent: Susan Lee Cohen, Riverside Literary Agency. (Jan.) © Copyright PWxyz, LLC. All rights reserved.